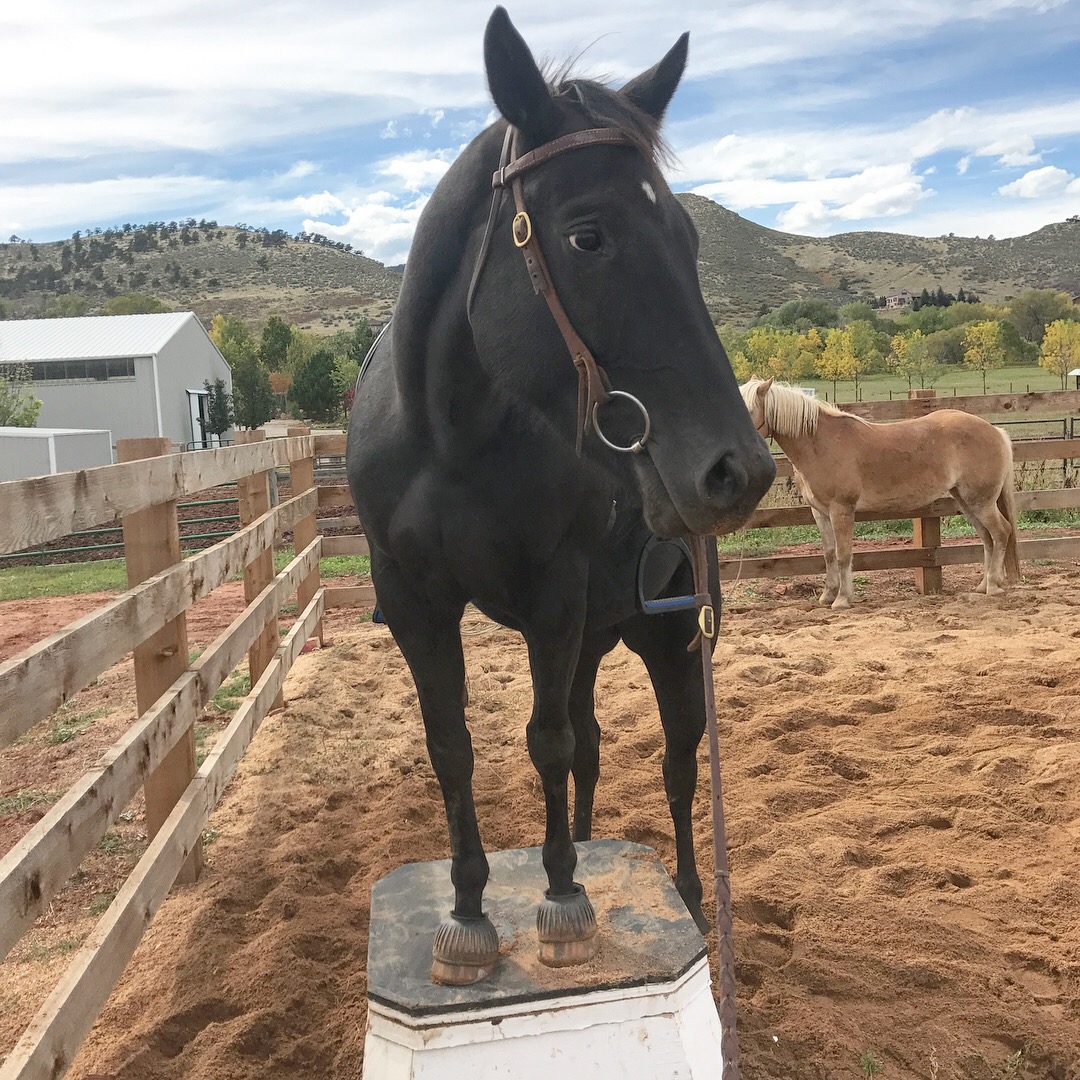 5-year-old maiden mare, born May 23, 2013 – Truffle has been gregarious and human oriented since the Saturday morning that she arrived, but she has a mind of her own and propensity for trouble. There is no knot she can't untie with careful manipulation of teeth and prehensile lips, or a scrap off food her wide nostrils can't sleuth out. When Truffle was only three months old, she would accompany her dam on trail rides and learned to swim her first summer. This background in adventures has served her well in the 'Novice' division of the North American Trail Riding Competitions (NATRC). NATRC offers a high energy environment with numerous new obstacles, where the fitness of the horse is tested. Truffle's training regime is based on 10 mile loops at BobCat Ridge with an 1100 foot elevation change, in interval training bursts of speed and power; rain, snow, or sunshine. Presenting at NATC is filled with learning opportunities for the young horse brain and body, we look forward to growing in our skill set for years to come!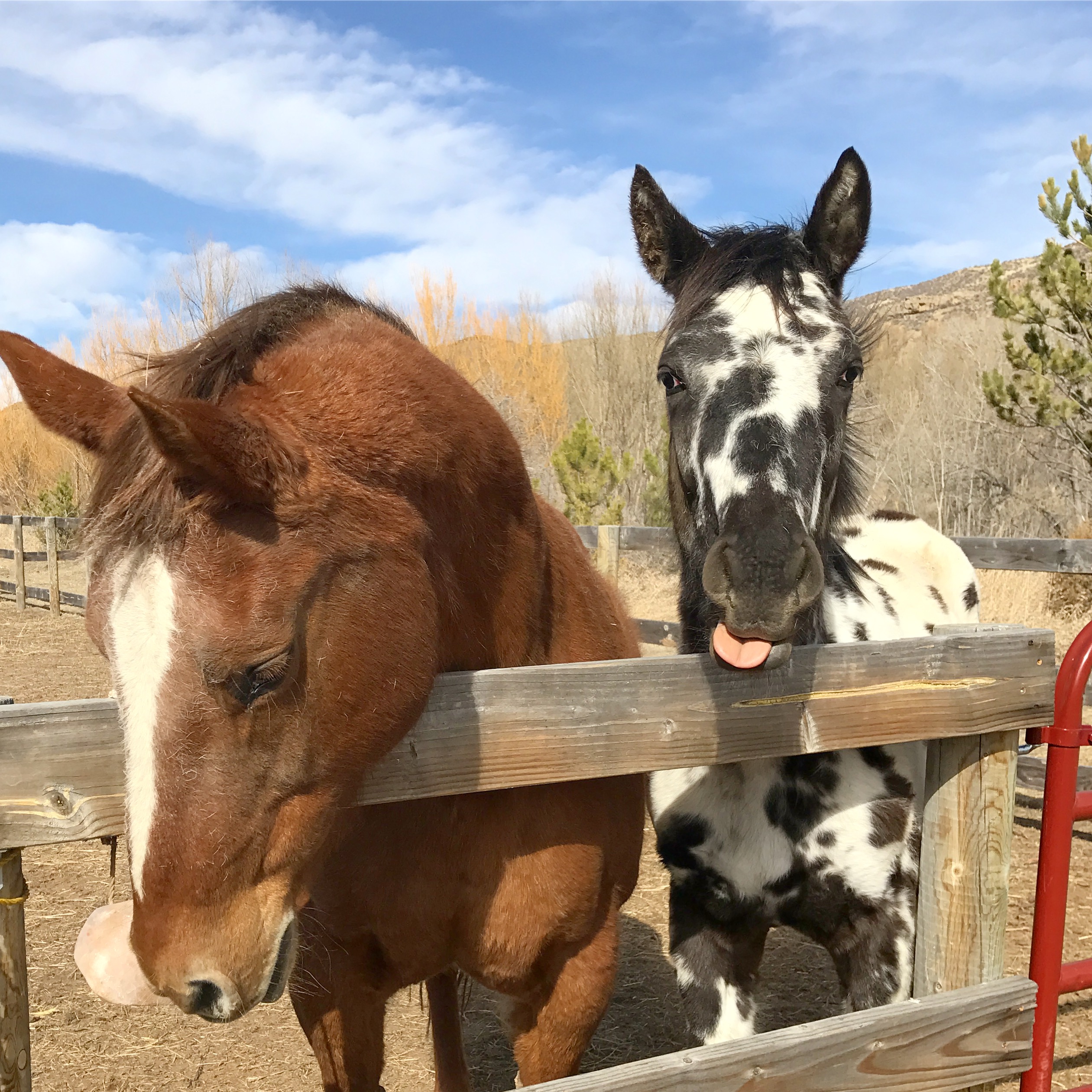 Born on Earth Day in 1999, Rosey is enjoying the title of 'flexibly retired'. With an eagle eye for elk and predators, she serves as the herd watchdog. 12 miles away a deer can walk across a ridge, and Rosey has her eye on him. Rosey is notorious for 'walking away' with riders who she thinks she can convince but loves to be set to a task. She goes as readily in a hackamore or rope halter as she does in a bridle and is as smooth as butter for a bareback jaunt. Rosey's last adventure was rounding up lost cattle up in the Rawah wilderness; where we discovered she bonds to calves much like most mares to foals. At home, Rosey can be found checking on the resident Angus herd every night, especially in deep snow, when not helping our foals through weaning.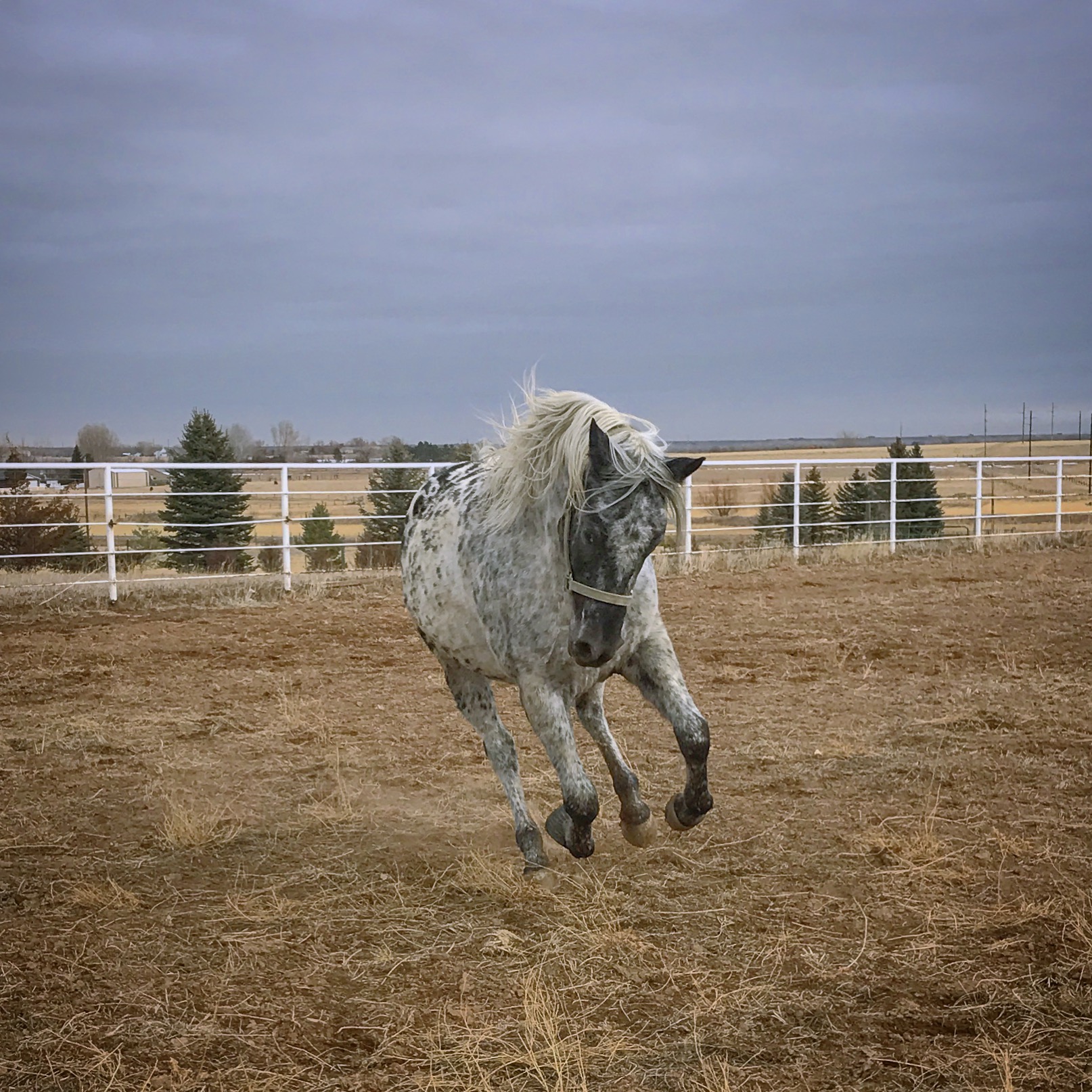 8-year-old mare, born June 14, 2011 – is the epitome of 'working mother'. Fitness and education were not sacrificed to the baby bump and even just 4 weeks after birth, she was back in the sandbox working hard, with her foal following at her side. Delia is a horse who is inspired by tasks and challenges and thrives when following a pattern. She partners with her rider to accomplish each round of an exercise with more precision and accuracy than the round before. She has a lazy side too and can sometimes take convincing that it's time to work! Delia was born in Illinois, transported to Michigan as a foal with her mother, before coming to Colorado for under-saddle boot camp. As a mother, Delia was attentive, yet welcoming of people to interact with her foal. She raised a spunky and independent filly, and we look forward to future progeny with much anticipation.
2-year-old gelding, born May 21, 2016 – Chui is the goofy younger brother of the herd; friends with all and able to get away with shenanigans that would earn most horses pinned ears or a tail swish. Chui was the result of great deliberation when matching his dam with a stallion that brought out the best temperament and conformation. Chui is excelling with ground work; both on the lunge line in preparation for being started under saddle, and with advanced skills such as laying down or bowing on command. Recent growth spurts have seen this young horse blossom into a feisty gelding with innate athleticism that we are looking forward to focusing into a great work ethic.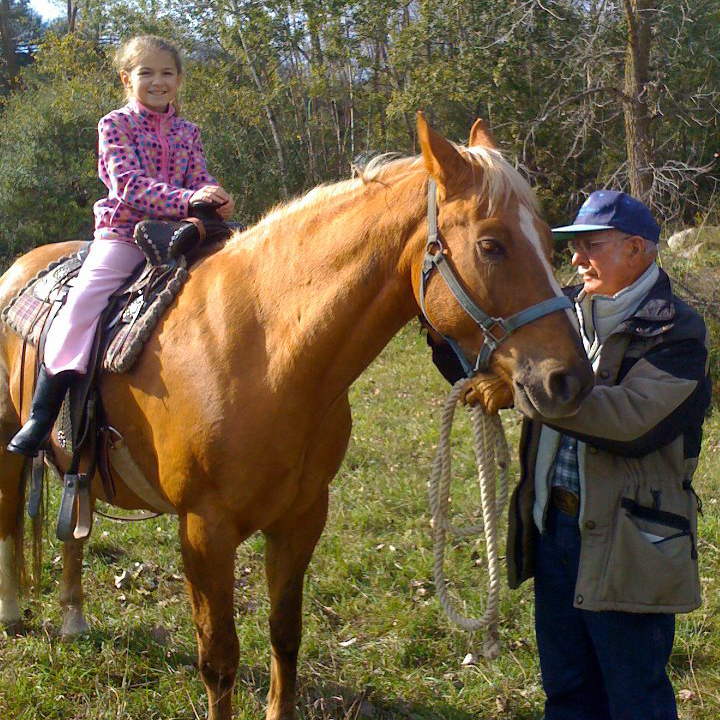 26-year-old gelding who is enjoying retirement in the green pastures of Michigan with the small band that he proudly reigns over. With a spirit for mischief and intelligence to carry out small misdeeds, Sandy always provides a ready laugh. During his riding years he packed many a child around for their first horse experiences or readily carried an experienced rider through both show rings and the open range. Sandy was a great test of patience for new riders, as he always believed he knew best. Now his time is spent passing on tricks to our foals and making sure they give their riders a run for their money!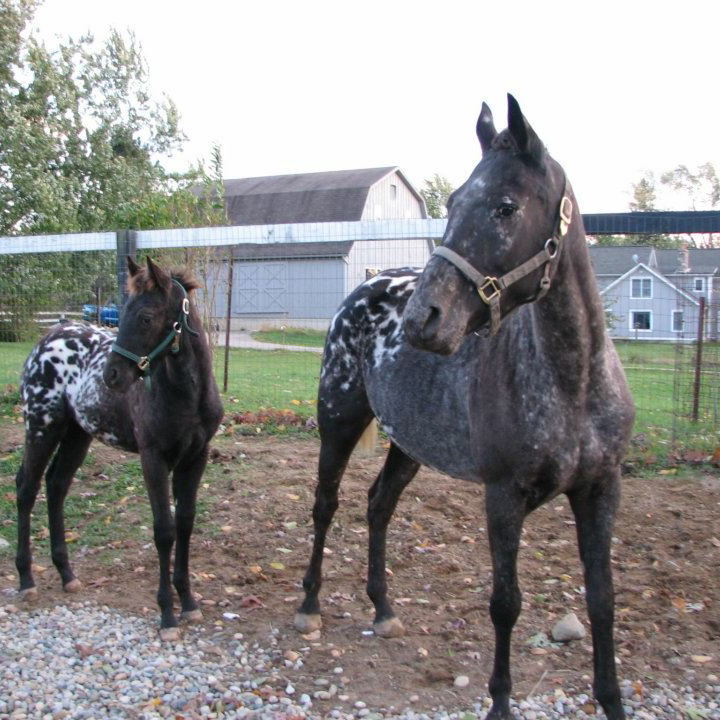 Punda was born in Colorado but was quickly scooped up by a breeder in Pennsylvania who recognized her foundation genetics as a boon to any breeding program. She has been brought back to our program in recognition of the athleticism, intelligence, and color she passes along.
The recent passing (November, 2018) of our 18-year-old herd matriarch has left a hole in all of our hearts. Twiga was a versatile riding horse who could eat up miles of trails in the morning, school in a hunter frame for the afternoon, and meander aimlessly bareback at dusk. Twiga was a notorious foal thief though and had a reputation both on the farm and at the veterinarian's for trying to herd foals away from their mothers to be adopted by her. She would even stand over a mare actively in labor, nickering encouragement, only to lick the newborn clean and try to nurse it as though it was hers. Her watchful guardianship over other's foals extended to defending them from coyotes, elk, and mountain lions. Twiga's stamp has been left on her progeny; kind temperaments, strong endurance, stubbornness, and intelligence to problem solve.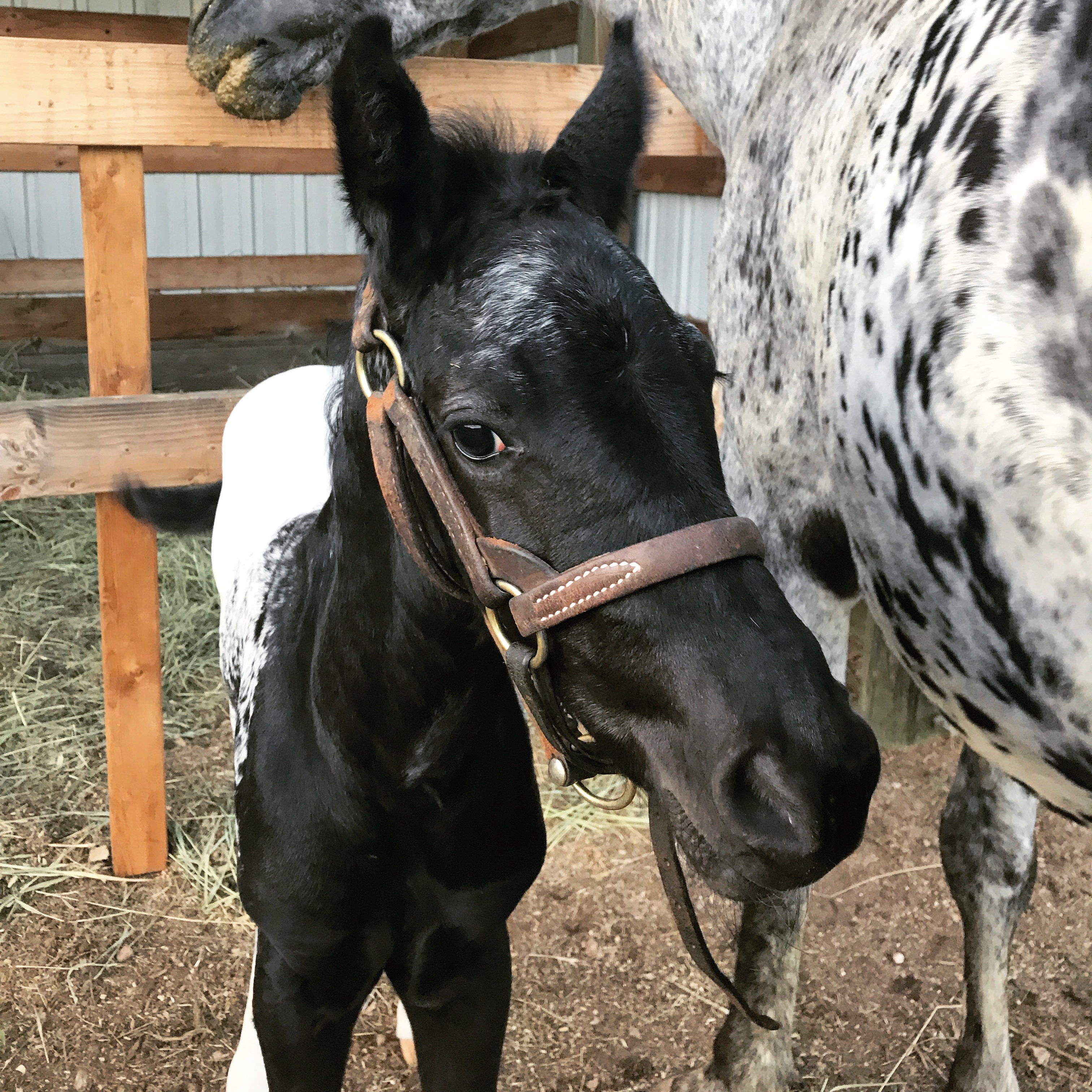 Yearling filly (born June 3, 2017) – daughter of Delia Ghost Dancer, and Granddaughter of Punda Mila, 'Cat' is a fiercely independent filly that won the heart of a local equestrian who values her pedigree, conformation, and athletic movement. With his purchase of Cat, she moved to a nearby young horse development trainer who continues to challenge Cat daily with age appropriate skills and we cannot wait to follow their journey.